Al Vermeil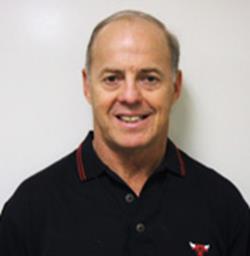 Al Vermeil is a strength and conditioning innovator who has the distinction of having coached in three major professional sports-the San Francisco 49ers in the National Football League (NFL), the Chicago Bulls in the National Basketball Association (NBA), and the Chicago White Sox in Major League Baseball (MLB). The 49ers and Bulls won championship titles during his tenure. He is also known, as President of Vermeil's Sports and Fitness, for implementing new techniques, training methods, and programs utilized by a wide variety of institutions, organizations, and sports.

Albert Louis Vermeil was born on February 4, 1945, in Calistoga, California, the youngest of four children, to Jean Louie and Alice Elisabeth Vermeil. His association with sports was derived in part from his father's association with auto racing and his brother Dick who gained fame as an NFL coach. At Calistoga High School, Al was an outstanding athlete in football, basketball, baseball, and track and field. He started lifting weights in 1960 under the direction of Coach Bill Wood and a strength-building program created by the legendary Alvin Roy. Weight training enabled Al to toss the shot 55 feet and, as the fastest kid on the gridiron, to play every position on offense and defense. It also had an ongoing impact on his athletic and coaching career through the inspiration of such strength and conditioning notables as Clyde Emrich, Stan Jones, Carl Miller, and Russell Knipp. At San Mateo and Napa junior colleges, where he played under his brother, and then Utah State University, Vermeil, at 5' 8" and 195 pounds, was able to apply this knowledge to skill sets on the football field. At Utah State, where he graduated with a degree in physical education and history in 1968, he started in 30 straight games over three years.

After earning a master's degree at Kansas State University, Vermeil successfully coached football at Moreau Catholic High School, and then in 1979 became the first strength and conditioning coach for the San Francisco 49ers where he helped them win the 1982 Super Bowl. Meanwhile he founded Vermeil's Sports and Fitness to design training programs. One of his first clients was the Chicago White Sox organization which was seeking to enhance the speed of its players. In 1985, he became the NBA's first strength and conditioning coach with the Chicago Bulls which soon reeled off six championship titles. His program, which utilized free weights, medicine balls, interval training, and plyometrics, stressed speed and explosiveness. To maximize these movements, Vermeil devised a core concept called the conditioning pyramid whereby athletes would graduate through six separate aspects of work capacity in a natural progression from strength to power to speed. The Olympic lifts, not slow bodybuilding or powerlifting movements, provided the key to peak performance. Although he applied modern technology to conditioning training with his Time Machine, a computerized timing and measurement device he developed in the early 1980s, he believes coaches should invest in knowledge rather than equipment.

Al Vermeil's achievements in strength and conditioning coaching over four decades have been widely recognized and emulated. As a featured speaker at coaching clinics, the subject of television, radio, and newspaper interviews, and author of numerous articles and training manuals, his sage advice on ways to improve performance has been a mainstay of the profession.