Allan Johnson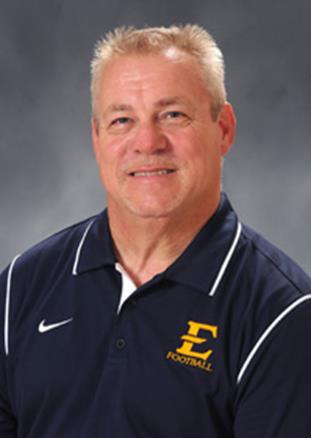 With experience spanning the high school, college, and professional levels of sport since the early 1980s, Allan Johnson has been recognized as one of the top strength and conditioning coaches in the country. His emphasis on team building and intangibles as motivational factors contributed to the success of football programs at West Virginia University, the Baltimore Orioles, the Ohio State University, Northwestern University, and East Tennessee State University. Hundreds of his former players have been drafted into the professional ranks of the National Football League, the National Basketball Association, and Major League Baseball.

Allan Dana Johnson, born on December 16, 1960, in Parkersburg, West Virginia, is the son of Charles and Evelyn Johnson. Inspired by high school football coach Buddy James, he realized that strength training could dramatically improve his performance in football and track. It later enabled him to gain all-conference honors as an offensive guard at West Virginia Tech and in the discus at Glenville State College where he graduated with a degree in exercise science in 1979. He was also a state (220-pound class) powerlifting champion. Allan spent several years as strength coach for three sports at a small high school in Southeastern Ohio, then accepted a graduate assistantship at West Virginia University where in 1983 he became head strength and conditioning coach and received a master's degree in sports management. In 1988 Johnson joined the staff of the Baltimore Orioles as the first strength coach in its franchise and one of the first five in Major League Baseball. After four seasons with the Orioles where he coached the legendary Cal Ripken, Jr., he returned to West Virginia as supervisor of all strength and conditioning activities for 21 male and female varsity sports. At Ohio State from 2001 to 2006, Johnson helped the Buckeyes reach three BSC national championship games and to win a national title in the 2002 season. He then served as assistant director of sports performance for football at Northwestern University from 2011 to 2014 before joining the staff at East Tennessee State University as an assistant coach for strength training.

The key to Johnson's success in directing players in so many programs is his emphasis on team building which means more than having players go through routine squats, bench presses, cleans, etc. Rather, it's intangibles that make a difference in performance-being on time, a good attitude, working hard, and dedication. Leadership requires communication, building trust, and coping with adversity. Good coaches must have passion and perseverance and the ability to tap each player's potential. Johnson believes that knowledge is an acquired characteristic and that you should never stop learning. It is important to care about the whole person on a year-round basis.

Johnson's coaching ideas have appeared in The American Fitness Quarterly, The Strength and Conditioning Journal, and Bigger-Stronger-Faster Magazine. His expertise as a consultant has been utilized at Nike football clinics, Maxx Football, and Alpha Dog Sports. Johnson has also been a regular clinic speaker at the annual convention of the National Strength and Conditioning Association and at various regional meetings. He was thrice named Big East Professional of the Year by the NSCA. Following his induction in 2003 with the inaugural class of its hall of fame, Johnson has served as a special adviser for the Board of Directors of the Collegiate Strength and Conditioning Coaches Association.