Barry Rubin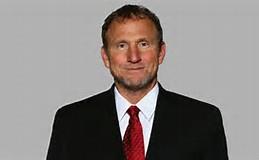 Barry Rubin has been a leading strength and conditioning coach in several high-profile athletic programs since the 1980s. He entered the profession following outstanding high school and college performances and football coaching apprenticeships at major Louisiana universities. His lengthy tenure with three National Football League teams has marked Rubin as a coach capable of increasing the performance of elite athletes with the latest training procedures while maintaining a low intensity and demeanor. His efforts have produced championship results.

Barry Edwin Rubin was born on July 25, 1957, in Monroe, Louisiana, the son of Sam and Eileen Rubin. He started training as an elementary school student when his father bought a set of weights for his older brother. In junior high school, Barry was inspired by Coach Al Miller, then later by Willie Ragan at Neville High School in Monroe, where he lettered three years in football, baseball, and basketball and twice in track. In football he won all-district honors as a running back and punter and was named to the Jewish All-American team. He excelled in those positions at Louisiana State University (1976-1978) and then at Northwestern Louisiana State in Natchitoches where he set a school record in 1979 with a 75-yard punt. His teammates included future NFL performers Bobby Hebert (Saints), Mark Duper (Dolphins), Joe Delaney (Chiefs), Gary Reasons (Giants), and Petey Perot (Eagles).

After graduation in 1981, Rubin embarked on his strength and conditioning coaching career as a graduate assistant at Northeast Louisiana State University in Monroe. Over the next fourteen years he served three separate coaching stints at Northeastern, two years as head strength coach at Louisiana State (learning periodization from Mike Stone), and a year as personal trainer for Pittsburgh Steelers quarterback Bubby Brister. After his third employment at Northeast in 1995, Rubin, assisted by Kent Johnston, became the Green Bay Packers first full-time strength and conditioning assistant, then head coach in 1999. He played a role in the Packers' 35-21 win over the New England Patriots in Super Bowl XXXI and the NFC division 23-10 win over the San Francisco 49ers the following year. In 2008 Rubin joined the Philadelphia Eagles organization as an assistant, then became the head strength and conditioning coach in 2010.

Since 2012 he has served in the same capacity for the Kansas City Chiefs where he helped the team recover from a 2-14 record to achieve four consecutive winning seasons with an overall 43-21 win/loss record. His coaching incorporates a year-round program, separately focused on big and small guys, that stresses basic exercises done properly. They are also designed to simulate movements done on the field. Rubin's program, emphasizing lower volume with greater intensity, trains players to be strong, fit, and fast. His coaching style tends to be enthusiastic but low-key, no yelling or screaming and nothing "in your face." His watchwords are "be yourself."

Throughout his lengthy coaching experience, Barry Rubin has implemented comprehensive strength and conditioning programs that include nutrition, weight control, and rehabilitation from injuries. In addition to his overall record of association with winning franchises, his career has been highlighted by six division, two NFC championship titles, and a Super Bowl victory with the Green Bay Packers in January 1997 under Coach Mike Holmgren. His greatest satisfaction comes from helping players in the weight room transfer their hard work to the playing field.