Bob Ward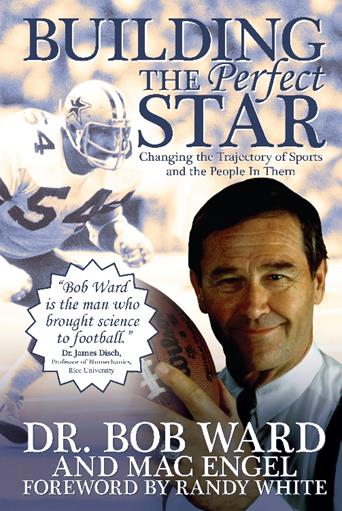 From his life-long study of sports science accompanied by practical experience in the training halls and playing fields of teams on multiple levels of competition, Bob Ward has had a transformative effect on strength and conditioning coaching. He was a pioneer in using data to improve performance, the utilizing novel training techniques, and applying Eastern methods to Western sports. His thirteen years with the Dallas Cowboys under legendary coach Tom Landry helped solidify that program's reputation as "America's team."

Robert Darryl Ward, son of Albert and Lovera Ward, was born on July 4, 1933, in Huntingdon Park, California. Partially raised in an orphanage, Bob developed an interest in strength training at age twelve when lifting weights in a physical education class. Sports participation helped him become a self-made man at Burbank High School where he starred in football and track. At Whitworth College, where he received a degree in physical education in 1955, he excelled in field events and was named a small college All-American in football. After earning his master's in 1959 at the University of Washington, Bob coached high school football and track for six years, then became head track coach at Fullerton College for the next decade where his teams won three straight conference championships and a state championship. Ward also coached rugby and designed a fitness program while serving in the Marine Corps reserve. He capped these early experiences by earning a doctorate in physical education from Indiana University in 1971.

In 1976 Ward embarked upon the climactic phase of his career when he was tapped by Tom Landry to become the Cowboys' first strength and conditioning coach. To provide his players a performance edge, he improvised a system of computer-driven analytics which enabled coaches to break down actual athletic movements rather than rely on statistics. He also instituted a form of psycho-cybernetics by applying the tensile strength of surgical tubing to induce greater speed. Ward's most revolutionary innovation, however, was employing the mixed martial arts techniques (Jeet Kune Do) of the legendary Bruce Lee, through his protégé Dan Inosanto, to improve the quickness of Cowboy players. Ward's Cowboy teams compiled a 124-72 record that included ten winning seasons, a Super Bowl victory in 1977, and a Pro Bowl win in 1983. Players on whom he had a major impact include quarterback Roger Staubach and tackle Randy White and NFL coaches Dan Reeves (Denver Broncos) and Mike Ditka (Chicago Bears).

Bob Ward retired in 1989, but he remained actively involved with strength and conditioning as co-founder of the National Association of Speed and Explosion, developer of a Computer Graphic Player Analysis system, and director of Sports Science and Nutrition for Mannatech International. In 2015 he preserved his ideas for posterity by publishing Building the Perfect Star (Ascend Books). His current project is a book on the "Martial Arts: The Spiritual and Physical Genome."

As a master's track and field athlete, Bob has been equally impressive, being twice named a world champion, garnishing six world records, and designated USATF Masters "Field Athlete of the Year," in 2002. Perhaps the greatest accolade to his accomplishments is a forthcoming (Mark Gordon) film about his collaboration with Inosanto in applying martial arts to professional football.