Dave Redding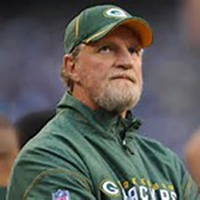 Dave Redding, regarded as a "man's man" and somewhat eccentric in his approach to life and coaching, has done much to make strength and conditioning a staple of modern football. Through his colorful personality, teaching skills, and knowledge of what generates maximum performance, he served as a pioneer for numerous collegiate and professional programs over several decades, one of which he helped guide to a Super Bowl victory. His winning record serves as an inspiration for others in the profession.

David "Red Man" Redding was born on June 14, 1952, in Holdenville, Oklahoma, son of George and Ruth (Grief) Redding. In 1961 his family moved to North Platte, Nebraska, where his father coached the high school football team to a state championship. Dave started strength training at age 7 when he discovered weights in a closet that his father used for the team. An AFL exhibition game between the Denver Broncos and Oakland Raiders first sparked his interest in professional football. Though born without sight in his right eye, he excelled in football (as a linebacker), wrestling, and track and field at North Platte High School where he graduated in 1971. Upon entering the University of Nebraska, he lettered for three years as defensive end under legendary coach Tom Osborne and was named All-Big 8 as a senior when he helped the Huskers win the conference title. After graduating with a degree in physical therapy, Redding briefly served as a graduate assistant before becoming the first strength and conditioning coach in 1977 at Washington State University under former Nebraska halfback Warren Powers. He followed Powers to the University of Missouri in 1978 where he helped the Tigers register four consecutive winning seasons and bowl appearances.

In 1982 Redding broke into the National Football League as first strength and conditioning coach for the Cleveland Browns where he compiled a 58-46 coaching record in seven seasons, then from 1989 to 1997 with the Kansas City Chiefs had a 94-49 record. After one year with the Washington Redskins, Redding became head strength and conditioning coach with the San Diego Chargers where he worked with star quarterback Drew Brees. For helping the team compile a 14-2 record, the best in the league in 2006, he was recognized as NFL Strength Coach of the Year. In 2009 Redding took his program to Green Bay for two successful seasons where he was able to coach Aaron Rodgers and help the Packers to win Super Bowl XLV over the Pittsburgh Steelers in 2011. Two weeks later Redding, feeling the onset of the Parkinson's Disease, retired from coaching.

His training protocol always stressed whole body exercises involving triple extension movements with the knee, hips, and ankles. The Olympic lifts, especially power-cleans and snatches, were central to this process, supplemented by kettlebell and flexibility exercises. With tough guy cowboy star John Wayne as his hero, Redding exuded a masculine image and approach to his coaching. "He always impressed me with his teaching skills and his ability to get the most out of all the players he worked with," observed Green Bay Head Coach Mike McCarthy. "He built relationships in a way where he could push the players to get their best every day." In 24 seasons as an NFL strength and conditioning coach, Dave Redding's teams posted a 228-147 record and participated in sixteen playoffs.