Father Lange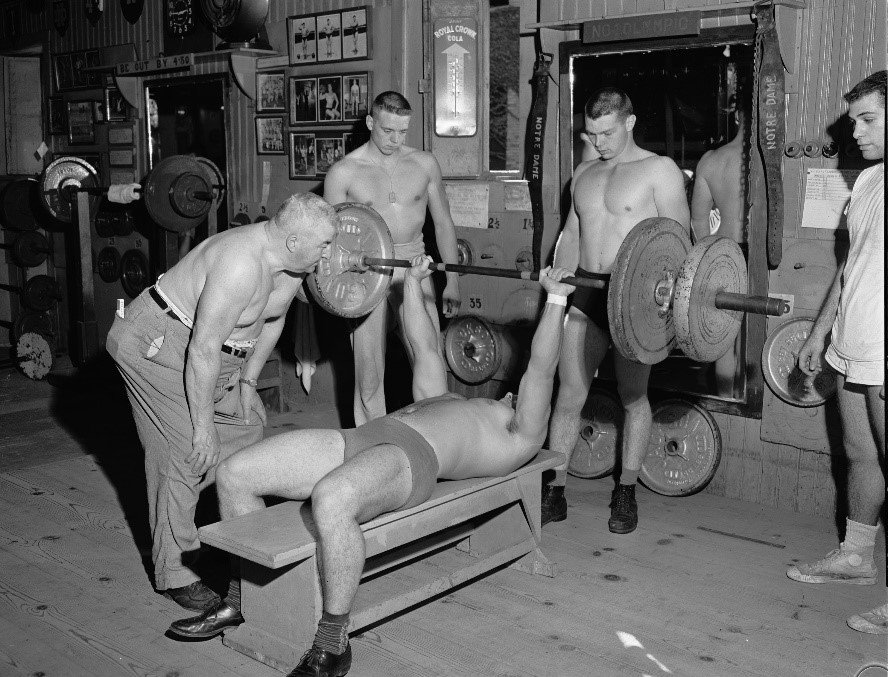 Rev. Bernard Lange was an early strongman and physical culturist who had a powerful influence in improving the fitness and molding the character of countless young men at the University of Notre Dame for several decades. His combination of physical strength, ingenuity, mental toughness, and a gruff but caring demeanor made him a legendary figure on campus. Coincident with the emergence of Notre Dame as a football power, Lange became a nationally celebrated advocate of weights as a training aid. He is reputed to be the first real strength and conditioning coach and creator of the first college weight training gym.

Born on August 8, 1888, in Danzig, East Prussia, Rev. Bernard H. B. Lange, C.S.C. migrated as a child with his parents to Oil City, Pennsylvania. After graduating from Notre Dame in 1912, he was ordained to the priesthood in 1917, and earned a Ph.D. from St. Edwards University in Austin, Texas, in 1931. While he taught comparative anatomy and physical anthropology and carried out ecclesiastical duties at both institutions, lifting weights was his extracurricular passion. At age 19 Lange was very slender, with a 30" chest, 10" upper arm, and 19" thigh. By age 26 he measured 50" chest, 19" upper arm, and 27" thigh and was one of the most powerfully built men in the country. In 1921, at 5' 8", 232 pounds, he performed a military press of 25 repetitions with 75 pounds with right and left hands and did 130 pounds once with each hand. Lange unofficially bench pressed over 400 pounds, and even at age 65 he could deadlift 600 pounds and rip a deck of playing cards with just his thumb and forefinger.

Lange's reputation and creation of weight training facilities at Notre Dame segued into a life-time career as a volunteer strength coach. In the early 1920s he shared his expertise with national readers through a series of training articles in Strength magazine. At his campus gym in an abandoned natatorium, the strongman-priest constructed much of the equipment by hand and imparted the time-honored principles of progressive weight-training to his charges. He also stressed gentlemanly conduct, serious effort, quiet cooperation, and self-discipline as lessons for life. Legendary football coach Knute Rockne, an enthusiastic supporter of Lange, advocated weight training for his players in the 1920s. Coach Ara Parseghian credited Lange for improving the strength and performance of his teams in the 1960s, leading to a 95-17-4 record and a national championship in 1966. His players utilized Father Lange's gym. Defensive back Mike Burgener was also the weightlifting club president. Lange was "a tough coach," he recalled, "who made us come together as a group and team but also taught us individual pride and responsibility!" Burgener became a leading Olympic weightlifting coach and crossfit gym owner.

While Father Lange's fame became widespread, his influence was greatest on the Notre Dame campus. By 1960 an estimated 6,000 young men had worked out in his gym under his direction over the years. He was decades ahead of his time by promoting weight-training not only for general strength and conditioning, but as a training aid for athletes in all sports and for rehabilitation of injuries. Plagued by diabetes and poor eyesight for most of his adult life, Father Bernard Lange died of a heart attack on January 14, 1970.