Jerry Schmidt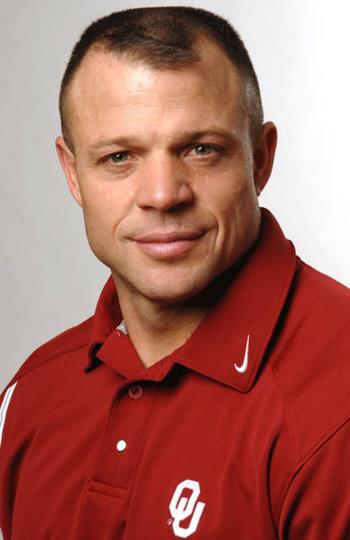 In his three decades of association with four NCAA Division I programs, Jerry Schmidt gained the reputation as one of the most demanding, innovative, and successful strength and conditioning coaches. During that time, his teams have played in six national championships from which he earned three national title rings, and 27 of his players were first round National Football League draft picks. Schmidt also worked with five Heisman trophy winners. The watchwords for his current players is emblazoned on a wall of the University of Oklahoma's weight room: "Hard Work Beats Talent When Talent Doesn't Work Hard."

Jerry D. Schmidt, was born on September 18, 1962, in Harvard, Nebraska, a farming community of about 1,000. At age 9 he started working out with two 15-pound sledgehammers belonging to his father, Gerald, in the basement of their family home, before moving to lifting real weights. At Harvard High School, where he graduated in 1982, Jerry wrestled and earned all-county honors as a 135-pound offensive guard and defensive back on the football team. At the University of Nebraska, where he graduated in 1986 with a degree in exercise science, he learned the practical side of strength and conditioning from legendary coaches Tom Osborne and Boyd Epley. Moving directly into college coaching, Schmidt served two stints at Notre Dame (1987-88 and 1989-95), a year at Oklahoma State (1988-89), and four years at the University of Florida, before coming to Oklahoma in 1999 as Director of Sport Enhancement, which places him in charge of all strength and conditioning facilities and programs.

His success stems not only from his philosophy of hard work but innovative equipment and drills to improve playing efficiency, such as air pressure pumps to develop explosiveness, pulleys with bungee cords to enhance speed, alternating high and low hurdles to stimulate agility, and hundred repetition sit-ups while tossing a 12-pound medicine ball to a teammate to build endurance. Intensity is the hallmark of Schmidt's training protocol which stresses speed, strength, power, agility, and nutrition, all of which must be kept in balance. No less critical to his coaching is an effective off-season program where he has a greater opportunity to increase the intensity of conditioning work-outs and to engage his charges as individuals in a way that head coaches are not permitted by NCAA rules. This is quality time that Schmidt uses not only to make his athletes fit for the regular season but to promote camaraderie and loyalty to the program and university. His hands-on approach reflects a personal interest in the welfare and achievement of each of his players.

Jerry Schmidt's style, though sometimes criticized for its severity, has reaped rich rewards in the devotion of his players and their success on the gridiron. They include Heisman trophy winners Tim Brown (Notre Dame), Barry Sanders (Oklahoma State), Danny Wuerffel (Florida), Jason White (Oklahoma), and Sam Bradford (Oklahoma). Since his arrival at Oklahoma, the football teams he helped coach have won an unparalleled eleven Big 12 conference titles and one national title and played in nineteen consecutive bowl games. The level of conditioning Jerry has built in his program enables players to be at their best, even late in games and late in the season. His lessons in toughness and perseverance are virtues applicable not only in football but in life.