John Garhammer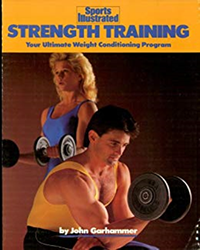 John Garhammer is a widely respected strength training scientist who has made substantial contributions in biomechanics and kinesiology. With a background in competitive weightlifting and professional training in physics, he devoted his academic career to disseminating information on training and conditioning to athletes desiring greater strength and power. Garhammer devised programs that incorporated original research into teaching at multiple universities, extensive publications, a wide variety of clinics and training camps, and assisting sports teams and individual athletes. Linking serious scholarship to functional training methods has been his most notable contribution to the strength and conditioning profession.

A native of Reading, Pennsylvania, John Joseph Garhammer, Jr., son of John and Anna (Riegel) Garhammer, was born on March 15, 1948. His involvement with strength training began at age 13 when he lifted a 70-pound exercise barbell overhead in a friend's basement on a Saturday morning. Inspired by various muscle-building ads in comic books and sports magazines to improve his body, John established his own weight lifting gym with a barbell/dumbbell set purchased from a Sears catalog. Consistent training enabled him to gain sufficient muscularity and strength to compete in his first Olympic weightlifting meet in 1964. From 1967 to 1980 Garhammer placed high in numerous medium-level competitions, his best lifts being a 125 kg. snatch and a 155 kg. clean and jerk. While serving as president of the barbell club at Pennsylvania State University, where he graduated in 1969 with a physics degree, John coached team members. Likewise, he coached weightlifters and taught physics at Leigh University where he completed a master's degree in 1971. After working briefly for General Dynamics Corporation in Pomona, California, Garhammer completed a Ph.D. in kinesiology at UCLA in 1980, specializing in biomechanics and exercise physiology. He also worked with experienced coaches Bob Hise and Bob Takano to train Olympic lifters and ran strength programs for UCLA athletes.

Upon graduating, Garhammer joined the Department of Health, Physical Education, and Recreation at Auburn University and helped direct the National Strength Research Center (1980-82) with Mike Stone, Terry Todd, and Tom McLaughlin. Concurrently, he co-authored several significant articles with Stone on strength training and Nautilus in leading strength and conditioning journals. He also served as strength consultant for the United States Olympic Training Center in Colorado Springs. As a physical education professor in succeeding decades at California State University, Long Beach, his scholarly research appeared in numerous scientific and strength and conditioning publications on such topics as agility and leg speed and power, energy flow for weightlifters and powerlifters, and propulsion intensity for weightlifting and vertical jumping. Garhammer's Strength Training, Your Ultimate Weight Conditioning Program, was published by Sports Illustrated in 1987 as a sort of primer for athletes and individuals of all skill levels to become more strong, fit, and healthy. It provides a clear description of how the body functions and responds to exercise, prescriptions for the most effective strength training as well as information on nutrition, free weights vs. machines, training cycles, and ergogenic aids. Garhammer also seeks to remove the stigma often attached to resistance training and show the many benefits of weight training.

In 2004 John Garhammer received the Boyd Epley Award for Lifetime Achievement from the National Strength and Conditioning Association. Upon retirement as Professor Emeritus of Kinesiology from California State Long Beach, he moved to Prescott City, Arizona.