Ken Mannie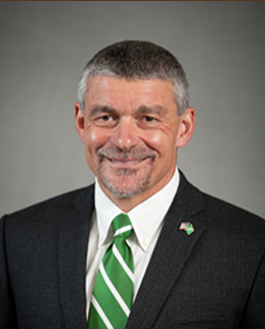 In a career lasting over four decades, Ken Mannie has become one of the most respected coaches in the strength and conditioning profession. His rich and varied experience has helped football teams at Michigan State University to compile winning records and play in fifteen major post-season bowl games since 1995. A strict disciplinarian and stickler for detail, his mentoring of young athletes has produced enviable results not only in improving their physical ability but molding their character and preparing them for life beyond athletics, as well.

Kenneth Mannie was born on July 1, 1952, in Steubenville, Ohio, the son of Mel and Antoinette Mannie. He started weight training with a Sears and Roebuck set while playing sixth-grade fullback and reading an article about Bill Brown, star running back for the Minnesota Vikings who made the courageous decision to lift weights to improve his strength. After graduating from Steubenville Catholic Central High School in 1970, Ken continued lifting at the University of Akron where he organized a weight training program with thirty other players, utilizing improvised equipment. A walk-on at first, Mannie eventually lettered for three years as an offensive guard and received a health and physical education degree in 1974. For the next decade he coached football, track, and wrestling, as well as taught at his home town alma mater where he also established a weight program.

Mannie entered the field of strength and conditioning as a graduate assistant at The Ohio State University where he earned a master's degree in exercise science in 1985, then served at the University of Toledo from 1985 to 1994 as the first full-time strength coach in the Mid-American Conference. In 1990 under Nick Saban, Ken helped the Rockets finish 9-2 and become conference co-champions. Since 1994 he has survived multiple coaching changes to head the strength and conditioning coaching unit at Michigan State. "Discipline with compassion" best describes his approach to coaching, pushing his players mentally and physically to the limits while providing intense mentoring to enhance character development and personal responsibility. A commitment to academics and avoidance of performance-enhancing drugs rank high on his list of priorities.

Mannie's coaching ideas have appeared in over 300 articles and four book chapters he has authored on strength, speed and power, nutrition, motivation, and drugs; and since 2000, he has written a monthly column, "Powerline," for Coach & Athletic Director magazine and been a frequent contributor to Championship Performance newsletter. In addition to speaking and participating in numerous national conferences and seminars, Ken has been an advisory board member for the National Strength Professionals Association and the Athletic Strength and Power and Ultimate Strength and Conditioning websites. Many of his players, including All-Americans, have had successful NFL careers, and many of his graduate assistants and interns have become strength and conditioning coaches in the NFL, the Big Ten, SEC, ACC, Big Twelve, and MAC. Ken has also been a consultant on equipment, programs design, and testing protocols for several NFL teams.

Ken Mannie currently oversees a full-time staff at Michigan State that includes associate head coaches for football, hockey, and basketball, and a director of strength and conditioning for Olympic sports. Among his many accolades, Mannie was named the FootballScoop Strength & Conditioning Coach of the Year for helping Michigan State win the 2015 Big Ten Championship and appear in the College Football Playoff.