Mickey Marotti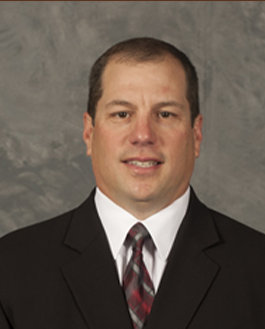 Mickey Marotti has had an exceptional career as strength and conditioning coach for several high-profile collegiate football programs. Much of his success may be attributed to his continuous close association with Urban Meyer, one of the most celebrated head coaches of the modern era. Together they proved to be a winning combination for two decades at Notre Dame, Florida, and Ohio State. Unlike many other competent coaches, Marotti has survived the vicissitudes of frequent program changes and helped enable his teams to sustain their winning ways.

Michael Anthony Marotti was born on December 24, 1965, in Ambridge, Pennsylvania, the second of three children raised by Janet and Joe (step-father) Bichey. In the eighth grade he started training on Nautilus machines and then free weights at Ambridge High School where, with mentoring by strength coaches Alex Wheeler and Dan Couch, he earned All-Conference honors in football and baseball. After graduating in 1983, he played fullback for West Liberty (West Virginia) University where he served as a team captain, won first team NAIA All-Academic honors, and in 1987 earned a degree in exercise physiology. Mickey then became a graduate assistant, along with Urban Meyer, at The Ohio State University where he obtained a master's degree in strength and conditioning. After completing another master's in sports medicine at West Virginia University, he became strength and conditioning coach over twenty sports at the University of Cincinnati from 1990 to 1997, specializing in dietary planning and injury rehabilitation. During the next seven years as director of strength and conditioning at Notre Dame University, he worked again with Meyer who was an assistant football coach. When Meyer became head coach at the University of Florida in 2005, he hired Mickey to supervise its program and head the football athletic performance team. Marotti helped the Gators bring about 22 All-Americans, 13 winning seasons, and two national championships. At Ohio State, after joining Meyer in 2011 as Assistant Athletic Director for Football Sports Performance, the Buckeyes have established a 73-8 record, including a perfect season in 2012 and a national championship in 2014.

Marotti's coaching philosophy encompasses anything that will give his players a physical and mental edge. He strives to maximize their genetic potential by utilizing a blend of Olympic lifting, powerlifting, and high-intensity strongman movements to induce greater acceleration and speed. His conditioning regimen includes flipping 150-pound tractor tires, carrying 100-pound sandbags, and walking laps with 100-pound dumbbells. All-out effort is essential to achieving maximum fitness. These draconian measures are complemented by a record-keeping system to monitor and motivate each player and an athletes' training-table that includes a nutritionist to monitor the dietary needs of his charges. Hydration is an imperative on and off the field. Likewise, Marotti recognizes the importance of sufficient time for rest, recuperation, and rejuvenation to athletic performance. Perhaps the most essential ingredient to his success is the need to enlist and empower others. The head strength and conditioning coach needs to coach his assistant coaches. Marotti also believes that everyone should reinforce the culture established by the head football coach, speak the same lingo, and be a good listener. To that end he works with a performance team.

Valued by Urban Meyer as a "master" of motivation and mental preparation, Mickey Marotti received American Football Monthly's FBS Strength and Conditioning Coach of the Year award for 2016.