Mike Gentry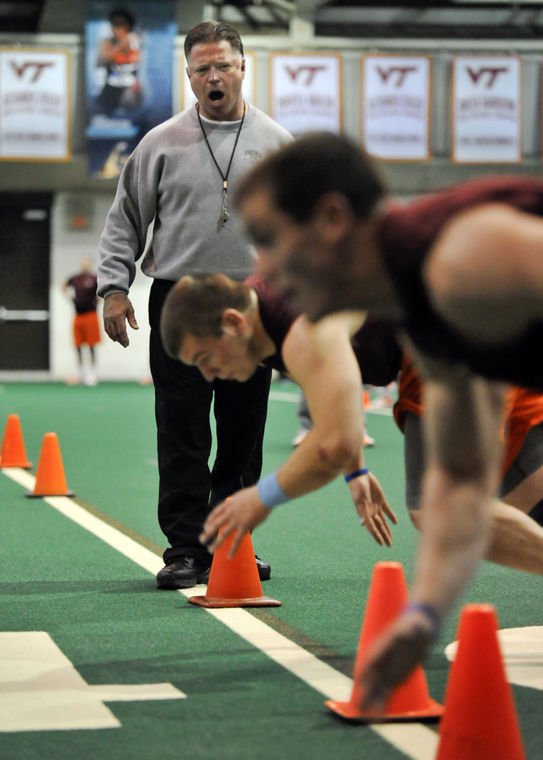 Mike Gentry is exemplary of the second generation of strength and conditioning coaches who expanded the principles and foundations provided by such pioneers as Father Lange, Alvin Roy, and Boyd Epley. After gaining valuable experience in weight-based programs at the University of North Carolina and East Carolina University, he became head strength coach for football at Virginia Tech in 1987 under Frank Beamer. For the next 29 years, training facilities under Gentry expanded over ten-fold and Tech became a national football power with an enviable win/loss record. His success eventually led to even greater responsibilities as Associate Athletics Director for Athletic Performance.

Roy Michael Gentry, son of a Korean War veteran and retired Post Office clerk, was born on September 22, 1957, in Columbia, South Carolina. He discovered a love of iron as a 150-pound high school kid who trained at a small gym in Durham, North Carolina. While working on his bachelor's degree in health and physical education at Western Carolina University, Gentry continued training and was inspired to become a strength and conditioning coach from reading Bill Starr's book, The Strongest Shall Survive. After briefly teaching physical education and coaching multiple sports at a local high school, Mike obtained a graduate assistantship in physical education at UNC-Chapel Hill where he also worked as a strength and conditioning coach in the Athletics Department and competed as a heavyweight powerlifter. From 1982 to 1987 he gained valuable experience as full-time strength coach for all sports at East Carolina University, then became the head strength and conditioning coach at Virginia Tech under newly hired Frank Beamer.

During the next three decades Gentry's responsibilities steadily increased to include not only strength and conditioning but sports nutrition and psychology programs (that he initiated) with a multimillion dollar annual budget. Total square footage reached 26,000 for football, basketball, and Olympic sports. These facilities, serving 21 teams and representing over 500 student athletes became an integral and indispensable part of Tech's sports program. At the core of Mike's training philosophy is year-round conditioning for all athletes, with emphasis on the off-season. He also advocated lower body development, especially for football. He believed athletic strength is mainly in the hips and core. Although bench pressing was important, power cleans and squats were even more critical to performance. In 1999, Mike earned a doctorate in education from Virginia Tech and has taught multiple courses on the science and principles of strength and conditioning in the School of Education. He has also shared his expertise at numerous coaching clinics throughout the region and with the public in his 2013 book, The Ultimate Guide to Physical Training for Football. No less significant has been his active engagement with the Hokie (boosters) Club, university faculty and staff, alumni groups, civic clubs, fundraising initiatives, commercial vendors, and representation of the athletics program in the national media.

Upon retirement in 2015, Gentry founded an online company, Scholastic Strength, to provide training for high school strength and conditioning coaches to help student-athletes perform their best in competition and in life. His achievements have been recognized in numerous newspaper feature articles and in American Football Monthly magazine, but his greatest contribution was to making strength and conditioning training a vital component to Hokie athletic success and moving this aid to sports performance forward to the next generation.