Mike Gittleson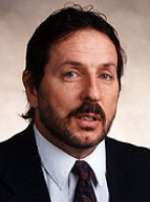 Mike Gittleson had a superlative career as strength and conditioning coach at the University of Michigan for three decades where he contributed to a remarkable 274-88-5 win-loss football record. With a background in heavy athletics, an intense focus on individual athletes, and utilization of up-to-date equipment, he created and established the pattern for Wolverine training that has helped perpetuate a winning tradition. His post-coaching career has been devoted to educating coaches and athletes on the importance of neck training to avoid concussions and to promoting the Pendulum equipment on behalf of the Rogers Athletic Company.

James Michael Gittleson was born on January 9, 1947, in Wytheville, Virginia, the second of three children to Norman and Frances Gittleson. It was not until the late 1960s that he was exposed to weight training at the YMCA in Manchester, New Hampshire, a hotbed of lifting. After graduating from Manchester Central High School in 1966, Mike served three years as a naval aviation mate in Vietnam, worked in a textile mill, and won the state powerlifting championship. Upon entering Plymouth State College (now University) he played football, wrestled, competed in track and field, and graduated summa cum laude as a physical education major in 1977. In 2016 Mike was inducted into the Plymouth State Athletic Hall of Fame. With these credentials, Gittleson entered the University of Michigan where he earned a master's degree in exercise science in 1978 and received the Paul Hunsicker Award for scholarship and professional promise.

While serving as an adjunct lecturer in sports management for the Division of Kinesiology, Gittleson attracted the attention of legendary football coach Bo Schembechler who was looking for an academic person to instigate a strength and conditioning program. Only after being offered a second scholarship did Gittleson agree to become Michigan's first such coach. Over the next thirty years, he applied every training technique available to improve his charges' performance while minimizing injuries. A key to Gittleson's coaching strategy is the application of a one-on-one scientifically-based program tailored to each player, featuring high intensity, whole body workouts and tough love. He also sought to instill team spirit by invoking an appreciation for Michigan's rich history and one of its greatest coaches, Fielding H. Yost.

Each year his foremost goal was to prepare his players to beat Ohio State and Michigan State universities. Under coaches Schembechler, Gary Moeller, and Lloyd Carr, the Wolverines posted records of 16-13-1 and 22-8 against the Buckeyes and Spartans, respectively, during Gittleson's tenure. In addition to a 75.7 overall winning percentage, Michigan competed in thirty bowl games, including twelve Rose Bowls. The Gittleson years produced fourteen Big 10 titles, two Heisman Trophy winners, and a national title in 1997. In 2003 he was recognized as national collegiate strength and conditioning coach of the year by the Professional Football Strength and Conditioning Coaches Society.

Since his retirement in 2007, Gittleson has continued working for the benefit of athletes and the game as a consultant, mainly for colleges, professional teams, and health clubs. His emphasis, in close association with Kim and John Wood, has been on head, neck, and jaw training to address concussion issues and change the strength and conditioning culture regarding player safety. He also promotes player performance by writing "Get Strong" blogs. "If you're a man built for others, you go somewhere" is a favorite aphorism.