Tom Cross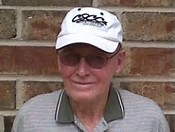 Tom Cross, who emerged from meager circumstances in rural Kansas, exhibited a "can do" spirit to become one of the nation's most highly respected strength and conditioning coaches. The success of his teams on the high school and collegiate levels along with his innovative coaching methods eventually brought him praise from the highest echelons of the profession. His traditional Horatio Alger attitude inspired many proteges and added a new (but old) dimension to strength and conditioning coaching.

Tom Nelson Cross was born on October 2, 1928, in rural Sumner County, Kansas, the son of Thomas and Juanita Cross. After attending a one-room school in his early years, he graduated from Belle Plaine High School in 1946 where he played on the football team. Tom also played football at Oklahoma Panhandle A&M (now State University) where he graduated in 1951 with an American History degree. Most critical to the preparation for his coaching career was his service in the 82nd Airborne Division during the Korean War. In 1953 Cross began coaching football, basketball, and track at Phillipsburg Junior High School in Kansas, and then coached these teams successfully at the high school. After earning a master's degree in physical education at Fort Hays College (now University) in 1958, he helped the Colby High School Eagles compile a 9-0 record as head football coach. Cross then carried his winning ways into the college ranks at Dodge City Junior College, Pan Handle A&M, and Missouri Western State University. Inspired by a visit with Boyd Epley at the University of Nebraska and consultations with John Stucky and Doc Kreis, Cross switched coaching fields in 1991 to become head strength and conditioning coach at Tulsa University. In that year he helped the football team win the Freedom Bowl. After the Hurricane basketball team made the Sweet Sixteen in 1994, the college and professional division of the National Strength and Conditioning Association selected Cross as strength and conditioning coach of the year. In 1996 he worked as a volunteer supervisor in the weightlifting training hall at the Atlanta Olympics, and then accepted a position as strength and conditioning coach at MidAmerica Nazarene University.

Coach Cross incorporated numerous original principles into his prescribed workout routine, mainly involving explosive-style Olympic lifting movements. Most notable are his four Complexes, designed for either high school or college programs and done with a combination of barbells and dumbbells to encourage variation and minimize staleness. Complex I consists of five exercises-muscle snatch, shrug and upright row, snatch squat, back squat, and bent-over row, all for six repetitions, followed by two sets of walking lunges in straight alignment with a ten-kilo plate. Complex II utilizes the unique Cross Balance Board whereby the athlete performs upright lifting movements in tight and perfect form. It is a proprioceptive neuromuscular concept designed to activate small muscle fibers, enabling the athlete to control ankle, knee and hip joint muscles as well as ligaments and tendons and to prevent ACL injuries.

During his tenure at MidAmerica Nazarene, Cross-coached football teams won 80% of its games, its basketball program appeared in eleven consecutive NAIA tournaments, and its softball teams registered a win-loss record of 220/118 over seven years. Following his retirement in 2005, MidAmerica Nazarene honored Tom Cross for his half century of coaching by establishing a $1,000 scholarship in his name.