William Kraemer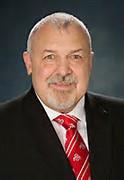 William Kraemer is a Professor in Human Sciences working in kinesiology, physiology, neuroscience, and sports medicine at The Ohio State University. As an early member of the National Strength Coaches Association, he was a key figure in helping the research committee put the organization on a more scientific footing. In succeeding decades, through his many publications, academic appointments, and organizational initiatives, Kraemer has become one of the world's preeminent scholars in the physiology and endocrinology of resistance training.

William J. Kraemer was born on March 19, 1953, in Wausau, Wisconsin, son of Raymond and Jewell Kraemer. While pursuing a degree in physical education and health education at the University of Wisconsin-Lacrosse, he was an avid weight trainer before it was popular and earned conference honors in football. Prior to his academic career, Kraemer gained practical strength and conditioning experience by teaching health and physical education; coaching football, wrestling, and track and field; and serving as strength coach in Minnesota and Wisconsin secondary schools. After earning a master's degree in exercise physiology at the University of Wyoming, he held a teaching position at Carroll College while serving as a coach for wrestling, football, and strength and conditioning. As wrestling head coach, his team set a school record for season dual meet wins. Upon completion of his doctorate at Wyoming (1984), Kraemer conducted research on soldier fitness and physiology as a captain at the Army Research Institute of Environmental Medicine in Natick, Massachusetts. This experience led to a succession of university professorships at Connecticut, Penn State, Ball State, Connecticut again, and eventually The Ohio State University. His research has focused on a wide variety of physiological studies of acute resistance exercise chronic training studies. During this time, he also mentored over 30 Ph.D. and 100 master's students and countless undergraduates.

Best known for his scholarship, Kraemer is author or co-author of over 450 peer-reviewed articles relating to sports, medicine, exercise, nutrition, fitness, and resistance training. He has also authored or co-authored numerous books on strength training and the endocrinology of exercise, including a classic textbook, Designing Resistance Training Programs (4th edition, 2014) with Steven Fleck and Exercise Physiology: Integrating Theory and Application (2nd edition, 2015) with Fleck and Michael Deschenes. Kraemer also serves on numerous editorial boards for scientific journals and is current editor-in-chief of The Journal of Strength and Conditioning Research and an editor for the European Journal of Applied Physiology. As one of the first members of the NSCA in 1978, he advocated a scientific foundation for coaching and a journal devoted to research which became a realization in 1987. Later, as two-term NSCA president, Kraemer sought to bridge the gap between scientists and practitioners and to foster a continuous learning process. In 2007, he was among the first members inducted as NSCA fellows.

Further recognition of his service and expertise came in 2015 with the Expertscape Award which named Kraemer the nation's leading expert in resistance training research and in 2016 with an honorary doctorate in health sciences from the University of Jyväskylä in Finland. No less significant of his scholarly impact is the 47,855 citations and counting on Harzing's Publish or Perish lists. Investigating the many physiological aspects of resistance exercise and training from the brain to the cell, from competitive athletes to the elderly, has been the hallmark of William Kraemer's scientific approach.